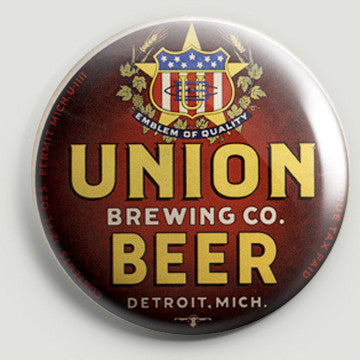 Michiganology ™️
Union Beer Label Bottle Opener Magnet
This 2.25" bottle opener magnet features the label for Union Beer produced by Union Brewing Company.
After two earlier ventures, Union Brewing Company of Detroit got off the ground in 1898, operating a brewhouse on the corner of Gratiot and Mitchell streets. After transitioning to non-alcoholic beverages and malt products during Prohibition, Union was purchased by investors in 1933 and renamed Cadillac Brewing Company. This only lasted two years and the Union name was brought back in 1936, only for the company to cease production later that same year.
The State of Michigan required makers of beer and wine to register labels of alcoholic products with the Commerce Commission.  While this practice was discontinued in the 1950s, the Archives of Michigan maintains the historic collection of Michigan-made brews from the early to mid-twentieth century. 
All magnets are printed and assembled at the Michigan History Center in Lansing, Michigan.
---
More from this collection