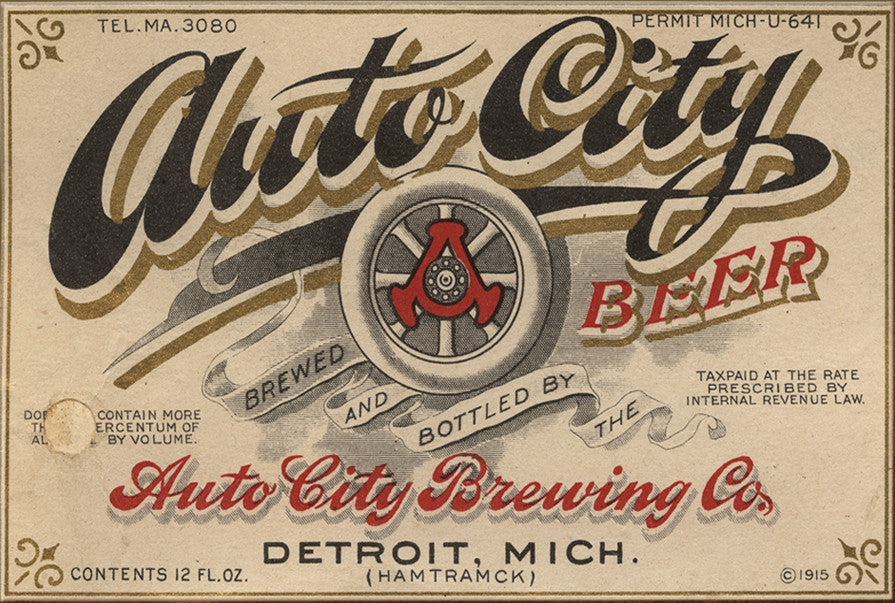 Michiganology ™️
Auto City Beer Label Magnet
This 2" x 3" rectangle magnet features the label for Auto City Beer produced by Auto City Brewing Company.
Auto City Brewing Company was founded by Polish-brothers Stanislav and Joseph Chronowski in 1910 near the Dodge Main Plant in Hamtramck. Production began in 1911 and the brothers quickly capitalized on their proximity to the Dodge plant by naming their brewery and one of its brews Auto City. 
Auto City Brewing Company shifted to soft drink and liquid malt production during Prohibition but returned to the brewing business in 1934. The company saw its peak in 1936, a time when its top marketed beers were Auto City and Altweiser, and it appeared the company would survive the post-Prohibition slump. Unfortunately, it would be the weakening of the automobile industry that would lead to the brewery's demise. The layoffs and strikes of the late 1930s led to Auto City's falling sales and the company closed in 1941.
The State of Michigan required makers of beer and wine to register labels of alcoholic products with the Commerce Commission.  While this practice was discontinued in the 1950s, the Archives of Michigan maintains the historic collection of Michigan-made brews from the early to mid-twentieth century. 
All magnets are printed and assembled at the Michigan History Center in Lansing, Michigan.
---
More from this collection