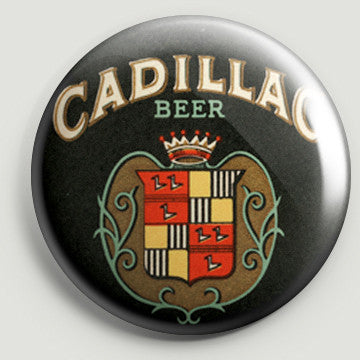 Michiganology ™️
Cadillac Beer Label Bottle Opener Magnet
This 2.25" bottle opener magnet features the label for Cadillac Beer produced by Cadillac Brewing Company.
Cadillac Brewing Company was formerly known as Union Brewing Company. Investors had purchased the Union plant in 1933 and it was quickly remodeled, renamed, and reopened by the following year with Homer Emory as the brewmaster. Named after the founder of Detroit, Antoine de la Mothe Cadillac, the brewing company incorporated the French explorer's coat of arms onto the label of their new brew—Cadillac Beer.
Similar to other post-Prohibition brewing companies, Cadillac Brewing Company suffered from poor sales and financial strain. Subsequently, the short-lived Cadillac company went back to its old Union name in 1936. 
The State of Michigan required makers of beer and wine to register labels of alcoholic products with the Commerce Commission.  While this practice was discontinued in the 1950s, the Archives of Michigan maintains the historic collection of Michigan-made brews from the early to mid-twentieth century. 
All magnets are printed and assembled at the Michigan History Center in Lansing, Michigan.
---
More from this collection